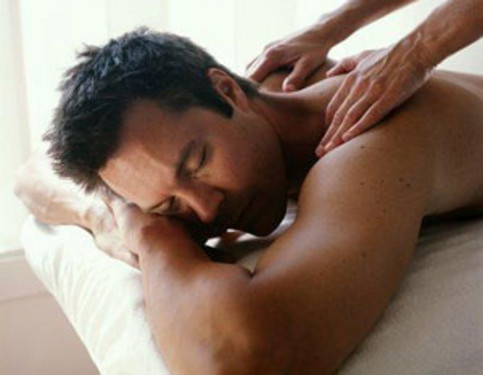 Massage is the manipulation of superficial and deeper layers of muscle and connective tissue to enhance function, aid in the healing process, and promote relaxation and well-being. The word comes from the French massage "friction of kneading", or from Arabic massa meaning "to touch, feel or handle" or from Latin massa meaning "mass, dough.
Massage involves acting on and manipulating the body with pressure - structured, unstructured, stationary, or moving - tension, motion, or vibration, done manually or with mechanical aids. Target tissues may include muscles, tendons, ligaments, fascia, skin, joints, or other connective tissue, as well as lymphatic vessels, or organs of the gastrointestinal system.
Massage can be applied with the hands, fingers, elbows, knees, forearm, and feet. There are over eighty different recognized massage modalities.
A back massage is often called a back rub. It is given by stroking the hands across a person's neck, shoulders, back, and buttocks. A back massage can drive the stress away. A hectic schedule and continuous work pressure can build stress levels. There are many benefits to a back massage to include relaxation, increased body awareness, improved circulation, and improved lymphatic drainage for release of toxins. A back massage increases the flow of blood to the skin and muscles of the back.
A chest massage helps strengthen the chest muscle, increase circulation, and tone up the nervous system of the chest, heart, and lungs. It is especially recommended in weakness of the lungs, palpitation, and organic heart disorders. Bust and mammary glands can be developed by proper massage.
A chest massage as a part of a full body massage or only for the chest focuses on the drainage points in the circulatory system rather than the muscles. Emotional stress could lead to a contraction of the chest muscles. This is the body's way of protecting from experiencing underlying feelings that may be painful or upsetting. The contractor of chest muscles could lead to shallow breathing, reduced energy, and an inability to feel truly vital. A chest massage is helpful in such a scenario.
Pamper yourself with a healing, soothing, and invigorating bodywork session. There are many full body massage with combined unique styles to help balance and stimulate your entire being. You can relax with a Swedish massage, relieve pain with deep tissue work, or achieve pure stress release with light touch or some combination of the above. Whatever you decide to you, decide to take good care of you. You only have one body and one life.