This is a tough topic, and the views are not meant to offend anyone. It is said that in real life, men do not kiss each other. It is not the acceptable norm and forget about public displays of affection (PDA) - not counting a certain game of Truth or Dare. Nevertheless, we have all seen same-sex couples kissing on mainstream television programs and in movie theaters. It is becoming a common practice, yet it is still taboo, especial PDA's.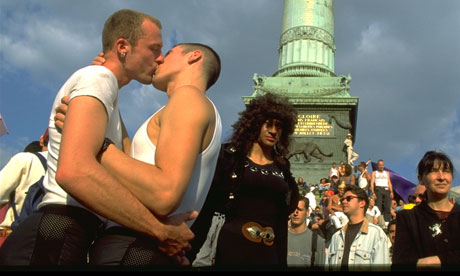 There is also a game called "gay chicken." Here, the challenge is whoever pulls away first is considered the loser. However, due to the competitive nature of the male species, men are no longer afraid of this game; men move straight-forward and accept this challenge which results in men kissing. Two students told their professor, Eric Anderson, PhD, University of BATH, United Kingdom, about the game "gay chicken." and he became intrigued. He decided to conduct research regarding men kissing men. The following excerpt was taken from an article entitled "Straight Men Kissing More-The Guardian":
He interviewed 145 students, a mixture of men studying sports-related subjects and every third man who left the library on a particular day, from two different universities, plus other male students from a sixth-form college. The results of his survey showed 89% of the polled men saying they were happy to kiss another man on the lips through friendship. And almost 40% added that they had engaged in "sustained kissing, initially for shock value, but now just for 'a laugh'."
Anderson, 43, believes homophobia is dying out on university campuses, and says attitudes to male kissing reflect that. "Sexual minorities have made tremendous cultural and legal improvements towards equality – the media is saturated with images of sexual minorities, and homosexuality is almost normalised today," he says. "This is particularly true of youth. Young people have disassociated themselves from homophobia the way they once did from racism.
"This is not to say that all youth are gay-friendly, but there's an awareness that anybody can be gay without the homohysteria – where men try to act in sexist, hyper-macho and homophobic ways to prove they are not gay – that used to exist. Young men are becoming softer and more inclusive."
Anderson says men are now kissing each other to show their "intimacy towards one another", but not in a homosexual way. "The kisses seem to be stripped of sexual connotation, and given the percentage of men doing them, they certainly do not indicate a hidden homosexual desire."
This is only an excerpt from Anderson's research, but I am not sure if the students in the United States believe Anderson's theory regarding men kissing men. It is still taboo and unacceptable in many areas of the US. I thought the article was interesting, especially the views of other professors at the university. Basically, they believe nothing has changed over the past 20 years. Even though there have been many Pride movements throughout the world, they are still have pragmatic views. It is interesting to here the views of others regarding this matter!